Corporate Social Responsibility
« Do what you love and help along the way.»
Proud of what we do and the everyday environmental progress we are part of, SPARFELL constantly encourages new standards and innovation in the industry.
Fly4Water
A SPARFELL program in collaboration with Waves for Water
The global water crisis is solvable. It's not a question of technology; it is a question of access. Waves For Water's commitment to the urgency of this issue has inspired us to design programs that can create immediate access, resulting in direct impact. The following program is a great place to start to support Waves For Water and take immediate action with us.
In collaboration with Waves For Water, SPARFELL has set up its own program, Fly4Water, so that SPARFELL and its passengers can participate in this change. Fly4Water will see its first roots taken in Madagascar. Close to the history of SPARFELL and the Queffelec family, Fly4Water is and will be the best and most loyal way to do what you love and help along the way.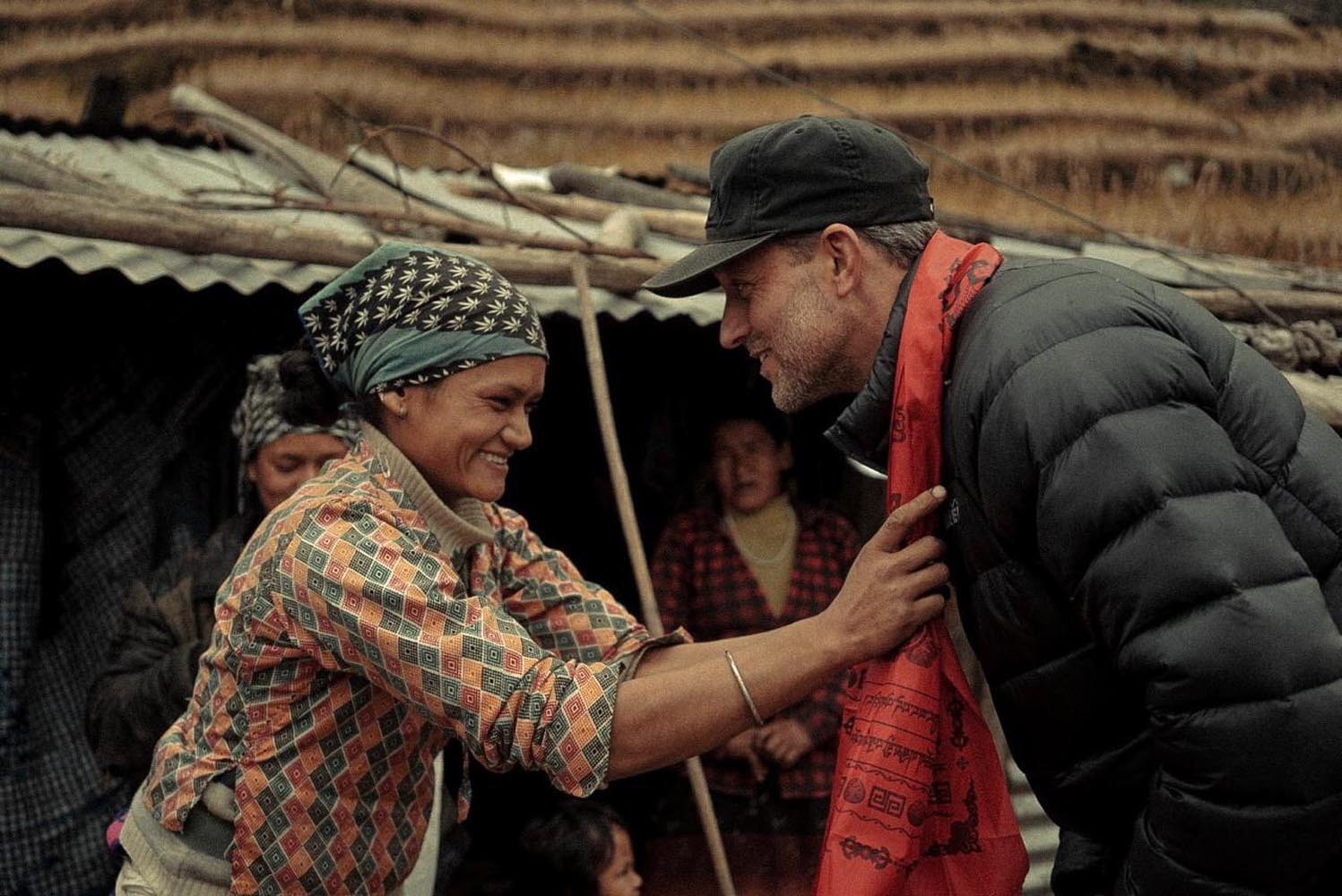 "The global water crisis is solvable. The technology exists, along with the manpower to implement it. It just comes down to a choice: those who have access to clean water, choosing to provide it for those who don't. On behalf of the entire Waves For Water team, we want to thank you for helping us make that choice."
Jon Rose
How to take part in the Program?
To take part in the program, fly with us or donate to our charity. SPARFELL will instantly retrocede filters directly into the program for each flight booked by any of our clients. Furthermore, clients can choose to add any quantity of filters they wish on top of their flights when filling up their quote with the charter team.
FIND OUT MORE ABOUT WAVES FOR WATER
Waves For Water
Waves For Water is a targeted non-profit organisation that helps to correct the imbalance of water scarcity in developing communities around the world. With the implementation of portable water filter systems, the digging & renovating of bore-hole wells and the construction of rainwater harvesting & storing systems, the organisation has provided access to clean water to an estimated 3.75 million people worldwide.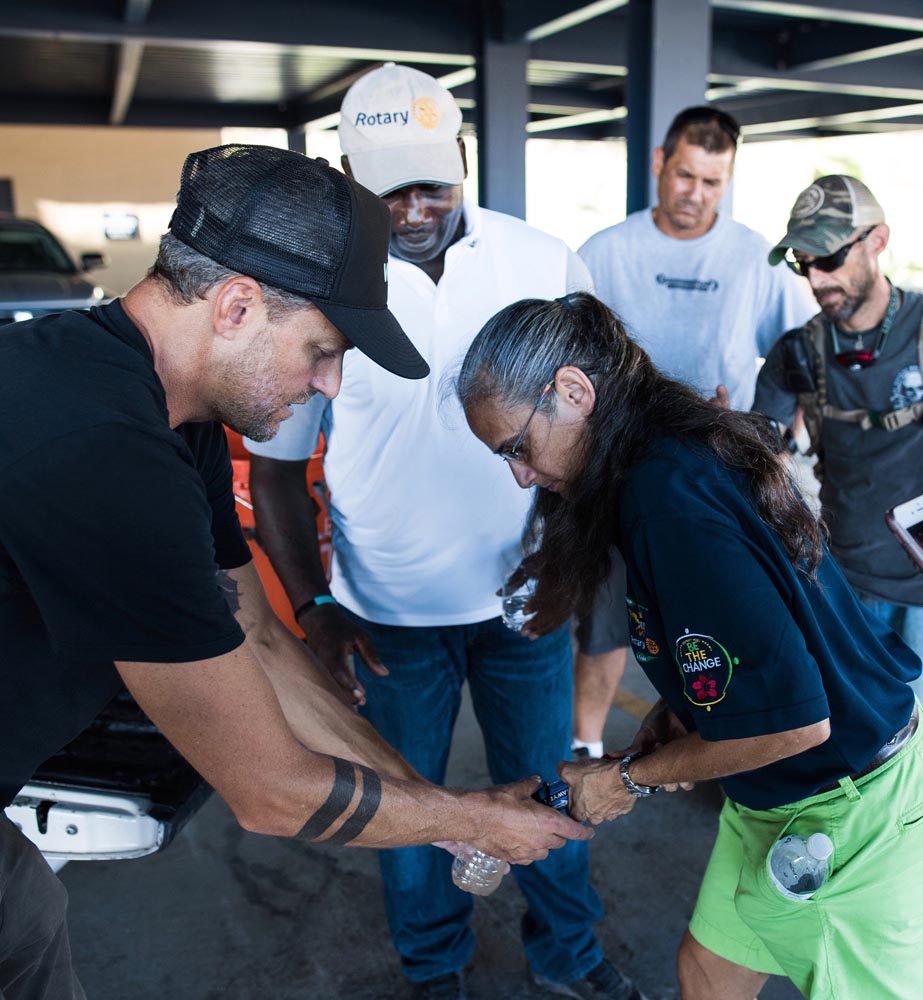 Through our proposed program, we seek to bring to life and further bolster the existing "tailor-made experience" and its purpose to :
"Celebrate the people who pursue their passions in the same way we follow our passion for aviation: wholeheartedly and thoroughly."
-Philip Queffelec, SPARFELL Chairman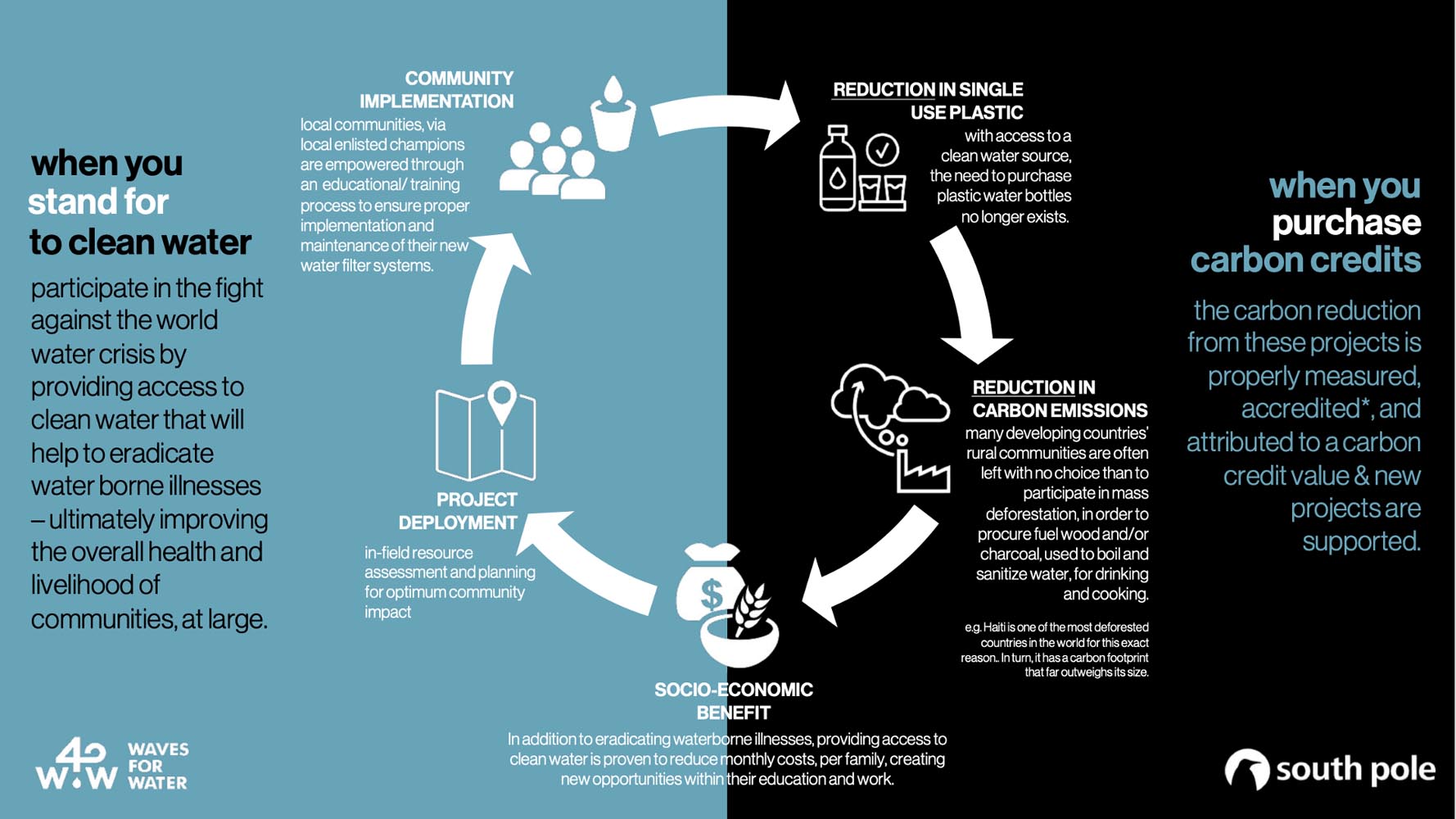 Combating Climate Change – EU ETS & South Pole
While we comply with the European Union Emissions Trading System (EU ETS) – at the end of each year, SPARFELL surrenders enough allowances to cover all its emissions – Waves for Water is also an official partner of South Pole (member of ICROA, gold standard VCS, among many others). Thus, they help improve the lives of millions and contribute to a more carbon-neutral world.
A Step Forward in Private Aviation
Private aviation's current share of the aviation industry's global carbon footprint is 2%, and therefore, private aviation makes up 0.04% of the total global CO2 emissions. Yet beyond this, SPARFELL makes other everyday commitments. We respond to demand and optimise routes. What does this mean? Our flying time is constantly maximised to avoid empty planes flying. While it is cost-efficient for you to take a plane already on location, it is also more environmentally responsible and operationally efficient.
Furthermore, SPARFELL is proud of the progress made in fuel consumption technology and its development of Sustainable fuel (SAF). It is a proven technology. Already nearly 300,000 flights have flown on a mixture of SAF and regular jet fuel. We believe that SAF is both a game-changer and the future of our industry because it can cut life-cycle emissions by about 80%. Moreover, it can be made from a wide variety of sources – used cooking oil, urban or agricultural waste, non-food crops, even algae – and it can be dropped straight into modern jet engines or without any need of modification.[1]
While the latest technology onboard our aircraft always optimises flight time and fuel consumption, additionally, our partner M&R Design takes part significantly in our sustainability efforts. All the leather and amenities onboard are produced in Europe to encourage sustainability, support local producers, and reduce carbon emissions.
[1] https://www.iata.org/en/programs/environment/sustainable-flying-blog/why-saf-is-the-future-of-aviation